So you have just found out you are pregnant – congratulations! The first thing you will no doubt be asking yourself is – how far along in my pregnancy am I? You may also be wondering – When do I need to have an antenatal scan? What can I eat while pregnant? What dietary supplements should I take? Which is the best maternity hospital? Should I use a private midwife? What antenatal care do I need?
Knowing how many weeks pregnant you are is important for planning what you need to do before your baby arrives. Although pregnancy is typically 40 weeks the time will go quickly. A pregnancy calculator will help you prepare for the many changes that will happen at each stage of your pregnancy.
What is a pregnancy calculator and how do I use one?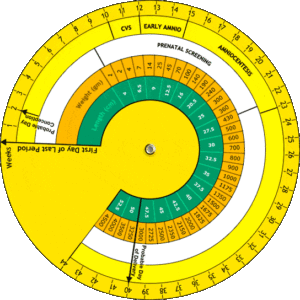 Pregnancy calculators, also known as due date calculators, help plot out a schedule for your pregnancy. They estimate how far along in pregnancy you are using the date of your last period,
Older versions of pregnancy calculators are known as pregnancy wheels, as pictured above. They take the form of circular cards printed with a calendar, but these can be a little fiddly to use.
However, digital pregnancy calculators are readily available on websites or apps and give a result with a few clicks of a mouse.
When should I use a pregnancy calculator?
You can use a pregnancy calculator as soon as you know you're pregnant and the date of your last period. Pregnancy calculators will work based on your last menstrual period, and will estimate your pregnancy for 40 weeks based on that date. While this may only give an estimate, pregnancy calculators are still very reliable in knowing when you can expect certain milestones in your pregnancy.
Where can I find a pregnancy calculator?
Pregnancy calculators are easy to find online but it's important to use one from a reputable source. They should be easy to use – just input the date of your last period and the calculator will do the rest.
Emma's Diary is a helpful source of information for all things pregnancy and birth related written from the perspective of an excited mum-to-be called Emma.
So you want to calculate your estimated due date on Friday, 11th December.
Firstly, you would input the first day of your last period into the pregnancy calculator, for example, 20th November.
Then choose the length of your menstrual cycle, such as 28 days. If your menstrual cycle is shorter than 28 days you can adjust this on the calculator.
Now hit calculate and you'll discover you are 3 weeks and 0 days pregnant and your baby is due on or around Friday, 27th August 2021.
We love this one because you don't have to sign up to anything to get your result.
This super easy to use pregnancy calculator will tell you in seconds when how far along you are and your baby's due date.
Just follow the on-screen instructions and it will give you the date in seconds. The site also contains lots of useful information about what happens at between one and eight weeks pregnant, then signposts you to NHS maternity services.
However, if you plan to use a private maternity hospital or a private midwife, you can find out more information here [LINK].
The What to Expect calculator enables you to work out your due date based on the date of the first day of your last period, conception date, IVF date of transfer or date of ultrasound.
Pregnancy calculators are wonderful little tools that anyone is capable of using for scheduling and planning their pregnancies and births.
Pregnancy calculators are now indispensable, whether it is to calculate a maternity leave or to determine when you can expect your bundle of joy. So why don't you try using a pregnancy calculator for your pregnancy today?